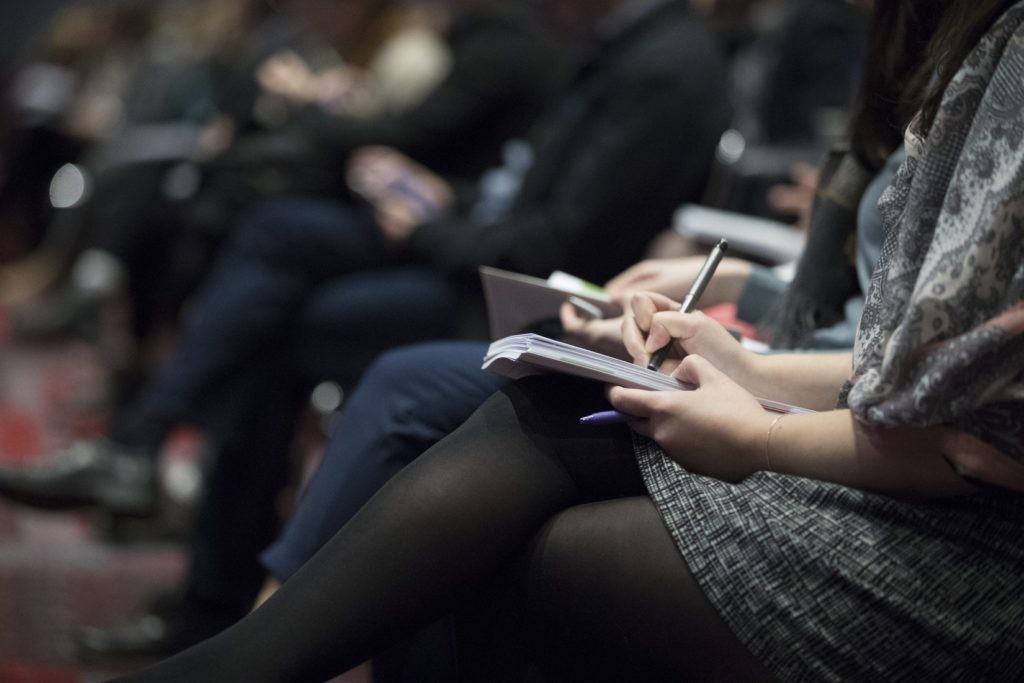 The following list includes some of the most influential project management conferences within the United States for the remaining half of 2019.

Keeping up with industry trends is an important part of being an effective project manager but it can be a hassle (and expensive) to travel internationally for a project management conference if you live in the United States.

Conferences provide project managers with the ability to gain new skills, get exposed to new ideas, learn about the latest tools and methods, and network with peers, experts, and industry thought leaders. A good PM conference should leave you feeling inspired and more confident about how you approach your projects.
While this is not an exhaustive list of all the upcoming conferences available, we have curated this list by choosing some of the most promising project management conferences that you won't want to miss if you are looking to grow your network and improve your project management skills.
Gartner Program & Portfolio Management Summit 2019

When: June 17-19
Where: Washington, DC

Digital disruption is a common problem for PPM leaders. With the introduction of more advanced tools and new mechanisms, traditional delivery methods are being disrupted. This conference aims to help you navigate an ever-changing digital landscape by showing you how to avoid bypass and extinction by quickly transforming PPM.

Event link:
https://projectmanagementevents.com/listing/gartner-program-portfolio-management-summit-2019/
Agile Testing Days USA 2019

When: June 23-27
Where: Chicago, IL

Agile Testing Days is one of the world's leading Agile conferences. This event provides a fun space to learn and connect with others in the Agile community while developing your personal and professional skills. It's full-day tutorials, multiple networking events, tech-focused workshops, and inspiring keynotes help keep Agile practitioners, testing professionals, and software engineers ahead of the game within their fields.
Event link:
https://projectmanagementevents.com/listing/agile-testing-days-usa-2019/
PMiP 2019 (Project Management in Practice)
When: June 13-14
Where: Boston, MA
This is a practitioner-focused event where you have the opportunity to learn from your peers and attend top presentations centered around Agile project management and the PM talent triangle. Additional workshops are available to develop PM competencies, learn how to encourage teambuilding, project and program leadership, and more.
Event link:
https://projectmanagementevents.com/listing/pmip-2019-project-management-in-practice/
Agile2019

When: Aug 5 – Aug 9
Where: Washington, DC
The annual Agile conferences (hosted by the Agile Alliance) are the largest annual global gathering of Agile practitioners. It provides professionals with the opportunity to explore proven techniques in project and portfolio management and learn where agile can be best utilized. It boasts over 260 Agile sessions, networking events, and keynotes.

Event link:
https://projectmanagementevents.com/listing/agile2019/

PMI Global Conference – North America

When: Oct 5 – 7
Where: Philadelphia, PA

The Project Management Institute's annual conference provides close to 100 educational sessions, immediately-applicable practices for your company, the option to test out the latest industry products, and the ability to connect and learn from business and industry professionals from around the world. You can also earn up to 18 PDUs across the PMI Talent Triangle during this 3-day event.
Event link: https://projectmanagementevents.com/listing/pmi-global-conference/

PMO Symposium

When: November 3-6
Where: Denver, CO

Gain new insights on how global organizations approach project management. This conference offers over 60 educational options, including traditional sessions, offsite learning excursions, and informal knowledge hubs.
Event link:
https://projectmanagementevents.com/listing/pmo-symposium/

While this is not an extensive list, each of the mentioned conferences is expected to provide high quality training and networking opportunities so you can improve your skills and expand your network as a PM manager.
If you have not already attended any project management conferences in 2019, we recommend checking out one of the ones above.

Which PM conferences have you attended recently?
Let us know in the comments below.